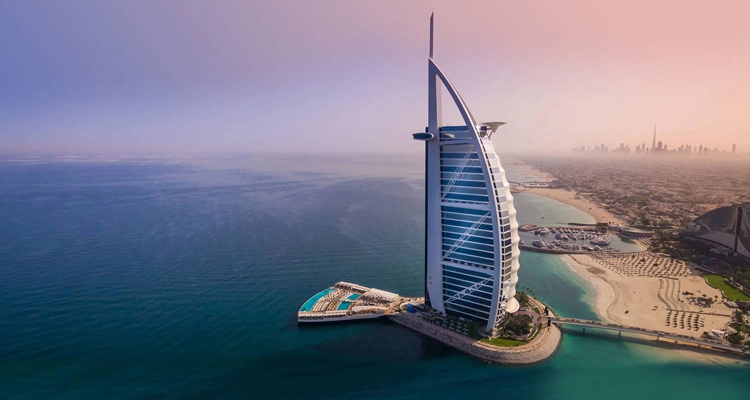 When we hear Dubai, the first things which come in our mind are Gold Souk, dazzling desserts, beautiful architectural beauty. But many of us don't know this fact that Dubai is an education hub.
Dubai is located in the Middle East which offers globally recognized educational institutes and fine career opportunities. Plenty of well known foreign universities and institutes have established their campuses in Dubai which provide high-quality education similar to the western standards.
Dubai has an booming economy and provide great career options so living and studying under the sun, sea and sand can be helpful for you after completing your degree. Dubai gives a cosmopolitan lifestyle and a safe place to live and study. 
Studying in Dubai can be economically helpful for you. Universities have low cost of programs as compared to nations like USA, UK, Australia and Canada. Dubai is tax-free, so if you choose to work here after completing your program you won't be needed to pay tax from earnings unlike other countries. Dubai provide quality education. As per World University Ranking, there are many top universities in Dubai.
Dubai is a beautiful city and you would likely to notice many fancy things things around you. Dubai is not very costly like European or American countries and can be easy on your pocket to live and enjoy. Public transports are easy to find and most of the times are in walk-able distance. Off-campus housings are easily available and comfortable to live and you can get them almost as the same price as the university accommodations. Local Dubai residents can be very helpful with your living, homework and will assist you with anything they can do. Dubai has a night life that is literally lit. It has beautiful beaches to enjoy. Accommodation is divided into two parts i.e. on campus and off-campus. However, not many top universities provide on-campus accommodation but If you are planning to study in Dubai and has on-campus accommodation in mind, you need to plan as early as possible because sits in top universities get filled quickly. Universities have tie-up with local hotels and and accommodation providers where you can find rooms at cheaper rates. If your university doesn't provide residential facilities then do not need to worry because you will find plenty of private accommodation options. On-campus accommodation can fe charges around 12,500-27,000AED depending upon your requirements such as single share, double share, premium, triple share etc.
Before applying one thing you need to know that Dubai is sensitive and has some strict law compared to any other city in the world. UAE being a country which adheres to Sharia Law, has some different dos and don'ts such as-
You can not eat and drink during the holy month of Ramadan.
You are not supposed to intimate with your male or female mate in public.
Drinking in public places is strictly NO.
You are not allowed to dance or play loud music in public areas.
You are not allowed to use swear words or rude gestures in public because it is considered as an offence.
Other than these rules, you DO NOT need to worry Dubai is a cosmopolitan city you can enjoy your life along with your studies.
DOCUMENTS AND REQUIREMENTS TO APPLY
The "City of Gold" is the largest city in UAE and has rich economy. There are many universities and colleges where international students are applying. However, to get admission in one of the universities or colleges you need to meet the admission requirements. Of course you require a study visa to study in Dubai if you are an international student or do not belong to 5 gulf countries i.e. Bahrain, Kuwait, Oman, Qatar, Saudi Arabia. You need to complete all the university fomalities. The following documents are required to apply for Dubai STUDENT VISA:
A valid passport
Four passport copies
Recent twelve passport sized photographs (white backgrounds)
Offer letter from the university
Students bank statement for the funds validation
A letter from university that he/she will be staying in the university accommodation
Copy of visa fee receipt and tuition fee receipt for the current year of study program
All academic details
Once you reach to Dubai, you need to undergo medical tests which includes medical test, chest X-ray, Hepatitis C, Hepatitis B, Leprosy, Syphilis and Tuberculosis from authorized medical centre.
Zayed University
American University in Dubai
Institute of Management Technology Dubai
University of Dubai
Al Falah University
Canadian University of Dubai
American University in the Emirates
The British University in Dubai
Middlesex University Dubai
University of Wollongong in Dubai
Amity University in Dubai
Manipal University in Dubai
The Emirates Academy of Hospitality Management
Al Ghurair University
Emirates Aviation University
Dubai Medical College
Mohammed Bin Rashid University of Medicine and Health Sciences
Jumeira University
MODUL University Dubai
Shaheed Zulfikar Ali Bhutto Institute of Science and Technology Dubai
American College of Dubai
The College of Fashion and Design
Al Wasi University
European University College
Imam Malik College for Islamic Sharia and Law
MENA College of Management
Maktoum Bin Hamdan Dental University College
Royal College of Surgeons in Ireland-Dubai
Rochester Institute of Technology, Dubai