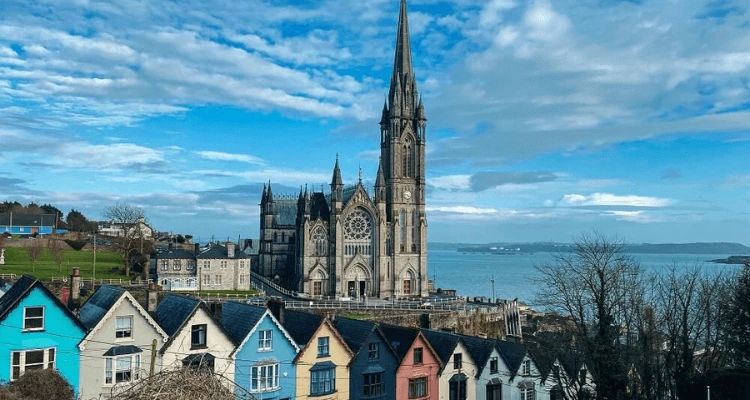 Ireland that is separated from Great Britain to its east by the North Channel, the Irish Sea and St. George's Channel is an island in the North Atlantic, and the second-largest island of the British isles, the third largest in Europe and the twentieth-largest on Earth. The name 'Ireland's is derived from Old Irish Eriu.
Now let's come to the education of this country, well education in Ireland is free at every level for Irish nationals and resident of the European Union. However, international students are not benefited with this facility for obvious reasons. There are some finest universities in Ireland, all provide a variety of undergraduate and postgraduate programs to around 40,000 international students from different multicultural countries who migrate to Ireland for higher studies. Irish education systems are the same as the UK qualifications so an undergraduate and postgraduate degree carries as much value as the UK.
The Irish capital, Dublin has been voted as the 'friendliest city' in the world. Getting a degree from Ireland can be proved really valuable for your professional development since the degree is equivalent to the UK. After becoming a member of the European Union, Ireland automatically turned from Europe's economic poorhouse to powerhouse. Several multinational corporations such as Google, Pfizer, Airbnb, Dell and others set up their headquarters here. Therefore Ireland offers number one opportunity to international to find a good job and stay in the country. The government of Ireland is now annually investing around 890 million EUR in higher education and also provide scholarships to students. The undergraduate degree in Ireland is usually free for Ireland citizens and EU citizens. However, if you wish to benefit from the "free fees initiative", you have to apply for funding governmental program and prove yourself eligible i. e. You are applying for the first time and the chosen course will last more than 2 years. However, you need to pay a minimum student contribution fee or around 2,500 EUR/ year for student services like examination entries, support for societies etc.
In case you are not eligible for the "free fees initiative", your undergraduate course fee would be around 7,000-45,000 EUR annually and postgraduate degree and PhD course fee would be around 9,000-40,000 EUR annually, depending upon field of course, University etc.
The country is beautiful with three World Heritage Sites. Some of the most popular places in Ireland include Bunratty Castle, the Rock of Cashel, the Cliff of Moher, Holy Cross, Abbey and Blarney Castle. Historically popular sites include Glendalough and Clonmacnoise, which are maintained as national monuments in the Republic of Ireland. Ireland has balanced lifestyle. However, the cost of living is a bit higher as compared to the other European country or area. Average costs of living (accommodation included) in Ireland are as follows :
Dublin: 1,000 – 2,000 EUR/month
Cork: 800 – 1,500 EUR/month
Galway: 800 – 1,300 EUR/month
Other smaller cities: 750 – 1,000 EUR/month
Accommodation is an important factor for every international student. Students have a Choice of a wide range of accommodation options in both on-campus and off-campus. However on-campus accommodation can be difficult to find because they are always in demand.
All universities have residence hall that is apartments with a private bedroom, shared kitchen, living room and bathroom. For on campus accommodation, 2 installments must be paid that are in September and in February.
Irish people are known to be friendly and hospital and help to make overseas students to adapt to the way of student like in Ireland. The country has various clubs and societies where you can go and make friends. If you like a fast life, there are live bands, music and various other festivals there that you can enjoy. There are plenty of water sports in the west such as surfing, kitesurfing which can be your leisure activity. It you are a laid-back kind of person, then are tranquil scenery, quaint cafés, leisure cycling to enjoy. 
Ireland has impressive motorway systems and national public transportation for daily travel. Because of its size, you can get from city to City in no time. If you are studying in Ireland then you will get Student Travel Discount on Dublin Bus, Irish Rail, DART, LUAS and Bus Éireann services with student identity proof.Student Travel card is Ireland's largest national student ID and discount card which offers discount up to 40% off.
DOCUMENTS REQUIRED FOR STUDENT VISA
Documents to apply for a student visa in Ireland are as follows :
Two recent color passport sized photographs
Passport and a full copy of any previous passport
A signed letter of application including your full contact details (Stating the reason you want to come to Ireland)
Letter of Acceptance from the College / University
Evidence of any gap in education
Proof of payment of the registration and tuition fees
Copies of all academic qualifications
English Language Proficiency certificate
Proof of sufficient funds to support your stay in Ireland
Medical insurance
Commitment to leave Ireland after completion of the visa
POPULAR UNIVERSITIES WITH OUR STUDENTS
Dublin City University
Maynooth University
NUI Galway
Trinity College Dublin
Technological University Dublin
University College Dublin
University of Limerick
Mary Immaculate College
National College of Art and Design
Royal College of Surgeons in Ireland
Shannon College of Hotel Management
Athlone Institute of Technology
Cork Institute of Technology
Dundalk Institute of Technology
Galway Mayo Institute of Technology
Institute of Art Design and Technology
Institute of Technology Carlow
Institute of Technology Sligo
Institute of Technology Tralee
Letterkenny Institute of Technology
Limerick Institute of Technology
Waterford Institute of Technology