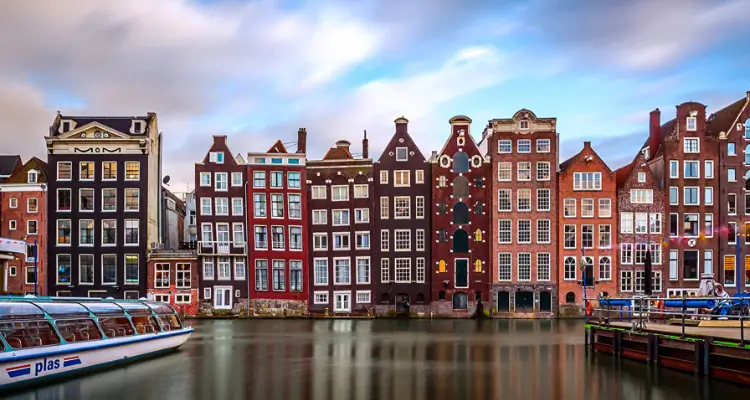 Netherlands is becoming popular as study destination among international students. If you are planning to study in the land of Tulip, here's some facts you should know before applying.
International students from all over the world come to study in the Netherlands. In recent years In international students came from a total of 160 different countries, mostly from Germany, India, China, Belgium, Italy and Spain.
WHY STUDY IN NETHERLANDS ?
Now if you as "why study in the Netherlands?" Well apart from having good study opportunities and low tuition fees Netherlands is a beautiful location with boat trips on canals and lakes, lazy beaches, scenic view of the woods, a moderate climate and the crossroads where the German, British, French, Chinese and many other cultures meet, sounds fascinating right?
Netherlands is also known as Holland and Holland is an area in the Netherlands that today is made up of the provinces of North Holland (Noord-Holland) and South Holland (Zuid-Holland). If we look into history, we see Holland was the area that contributed the most to the Dutch kingdom's economy and wealth. Due to a history of colonialism, three Caribbean islands are still part of the Netherlands: Bonaire, Sint Eustatius and Saba, the citizens are Dutch and can vote in EU elections.
Amsterdam is the capital of the Netherlands. Netherlands uses "EURO" as currency. Dutch people eat healthy and fresh, which we get to know from the Netherlands' first ranking in the world, above France and Switzerland, for having the most plentiful, nutritious, healthy and affordable food among 125 countries in an Oxfam report.
Netherlands is a non-Anglophone country, where approximately 94% of locals speak English which makes living, studying, and working in the Netherlands very convenient, comfortable and pleasant for international students. The Netherlands is very open and tolerant, welcoming everyone to share their opinions.
Another fun fact to study in the Netherlands is low cost tuition fees. YES! You heard it right. Studying in the Netherlands is not that expensive, compared with other English-speaking European or American countries such as the UK or the USA. The higher education in the Netherlands is subsidized by the government and tuition fees are relatively economical. You would be surprised to know that annual tuition fees for a degree program at a Dutch higher education institution start at approximately €6,000 for non-EU students, depending on the institution. 
WORK WHILE STUDYING IN NETHERLANDS ?
If you wish to decide to work alongside your studies, you can also reduce your expenses, and have some savings. Sounds cool right? Further, many Dutch universities offer grants and scholarships that can reduce the tuition fees of study programs.
The Dutch educational system is worldwide renowned and Dutch universities are acknowledged for their well-designed, updated courses and facilities. The pedagogy focuses on teamwork, which makes it easy for international students to get along with the locals as well as other international students.
Dutch universities place a strong emphasis on good personal bonds between teachers and students. The classes are small, consisting around 15-30 students max, where you get personal attention from your professors. Most of the coursework consists of group work which develop not only your academic skills but also your ability to work together as part of a team. Dutch universities give emphasis on relevant practical experiences, and universities have a lot of partnerships with Dutch companies, as well as international ones
Just like its tuition fees, the cost of living is also relatively low compared with other western European locations. To live in the Netherlands, you will need between €800 and €1,000 per month. Various part-time jobs are available to reduce your expenses.
There are many useful websites for students to find student accommodation. However, you should start looking for accommodation early, because there is a huge demand as many students are applying to study in Dutch universities now. For example, if you are planning for September intake, the best months to start looking for accommodation are May, June and July. Don't wait until August, as you will end up either finding expensive or low quality rooms.
Discounts are available in many bars, restaurants, museums and cinemas. You can get around town easily on a bicycle which is a cheap means of transportation. To get more benefits and discounts you need to ask for an ISIC Student Card.
The currency of Netherlands is "EURO".
The Netherlands is well placed for traveling around Europe.
Netherlands was the first non-native English speaking country in Europe.
International students can study programs in Dutch or English.
In the 2016 QS World University Rankings, two Dutch universities are listed in the top 100.
Netherlands has a typical maritime climate with mild winters and cool summers.
The expected cost of living is approximately €800-€1,100/ month for a typical student life.
Amsterdam is one of the most popular cities in the Netherlands.
Amsterdam is home to at least 200 different nationalities.
Rotterdam has the largest seaport in Europe.
WHY YOU NEED TO APPLY IN NETHERLANDS FOR STUDY
5 and 5.5 bands acceptable
1 day old funds acceptable
High visa success
Visa Filling will be done by university
Foundation (1 Year)+ Bachelor's degree (3 years),
Post Study Work Visa for 1 year
Total 5 Years Stay is required for PR
A wide variety of degree programs available
Globally Recognized Qualification
Affordable tuition fee and Living Cost
Minimum 60% is required in 12th from all Board.
IELTS 6 Band not less than 5.5
Gap with proper justification is acceptable.
Overall 55% is required.
IELTS with 6.5 Band overall not less than 5.5
Gap with proper justification is acceptable.
DOCUMENTS REQUIRED FOR APPLICATION PROCESS
1. Original Scanned Passport
2. Original Scanned Academics
3. Gap explanations
4. Original Scanned IELTS scorecard
5. Statement of Purpose
6. Letter of Recommendation (as per University requirements)
7. Resume
8. Two Photographs
9. Birth Certificate
10. Financial Proof
POPULAR COLLEGES/ UNIVERSITIES UNDER SDS SCHEME
Wageningen University and Research
University of Amsterdam
Delft University of Technology (TU Delft) 
Leiden University
Erasmus University Rotterdam
University of Groningen
Utrecht University
Maastricht University
Radboud University
Vrije Universiteit Amsterdam
Eindhoven University of Technology
Tilburg University
University of Twente
Twente Pathway College
The Hague Pathway College
Hanze University of Applied Science
Amsterdam University of Applied Science