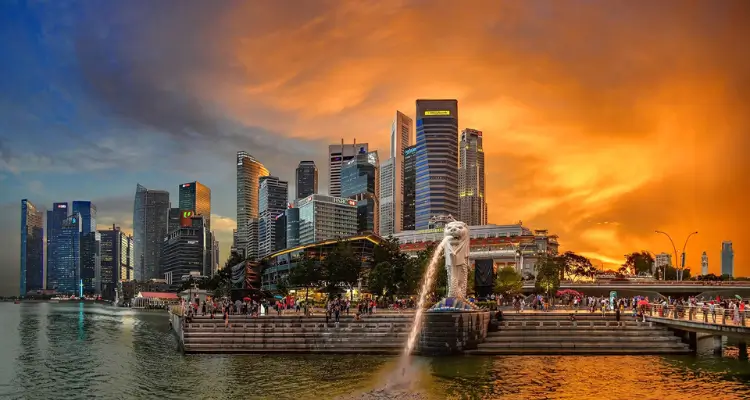 Singapore is considered to be one of the top educational destinations in the globe. 
Singapore is known to be a developed country with mesmerizing skyscraper and multicultural communities despite being its young status.
It is known for being Southeast Asia's most modern country for over a century, currently home to various ethnic communities. Singapore offers a progressive educational system with various facilities to international students.
The best thing about studying in Singapore is it's low course fee. It's proximity to India reduces the expenses as compared to some popular destinations like USA, UK, Canada or Australia. Since public transport in Singapore is a bit costly, you can balance it out with the course fees.
Singapore has strict anti-litter policies, which make it clean and green and earned the nickname of "fine city". In fact, despite being an urbanized state, Singapore has earned status of the "greenest city". The crime rates are low which makes its streets safe, even late in the night.
India and Asian faces are quite visible here so you'll not feel alienated in the country. Singapore is a multicultural society with four major ethnic group-Indians, Chinese, Malaysians, and other smaller minority Aisan groups. The principal religions in Singapore are Buddhism, Islam, Hinduism and Christianity.
If you are planning to study in Singapore and worried about language barrier then you there's no need to worry because English is widely spoken here and majority of the people can understand English. However, the official language of Singapore is Malay, there are 4 official languages (thanks to the different ethnic groups) – Malay, Mandarin, Tamil and English. So you won't find any difficulty in communicating with the locals. Singapore is gaining popularity
Singapore has 34 universities, among them 4 are national. The National University of Singapore (NUS) is currently ranked 11th in the QS World Rankings. Babying Technological University is another popular university which has ranked behind NUS in QS World Rankings. The university is highly regarded for the engineering courses.Singapore is also home to a recently established selected collaborative institutes. Singapore's growing popularity as an education hub has attracted a lot of foreign universities who showed interest in setting up their campuses here. Some examples like- S.P. Jain School of Global Management, Queen Margaret University, ESSEC Business School, Massachusetts Institute of Technology, Zhejiang University China are few universities who have set up their campuses in the country. Even if you are facing the fees expensive, there are plenty of scholarship opportunities to help you manage your pockets. Singapore government has introduced a scheme for international students called "Tuition Grant Scheme" to make the tuition cost affordable. If you are an international student studying full-time in Singapore, the government could reduce your course fee if you sign an agreement that you commit to work here for at least 3 years after completion of your course. Sounds interesting, isn't it?!
Singapore is a small, vibrant cosmopolitan island at the heart of southeast Asia situated between Malaysia and Indonesia with a population of around 5.2 million approx. Singapore has a high standard of living. It is highly urbanised and has a rather high per capita income, amongst the leading nations of the world in terms of income disparity. For Indian students the basic expenses such as rental (university residence), meals (university hostels), transportation (bus and public trains) cost around 922SD$ i. e. INR 42,531.86/month approx. The numbers are only an average and costs can vary from university to university. A private room can be costlier, a private independent room can cost you around 1,000$SD or above. Students in Singapore either live in university residence or private housing or hostels. Since university residence can be found in low cost, the demand is sure high. Mostly university residence is reserved with postgraduate candidates and given priority to the research students. Some universities provide accommodations for a limited period of time and may not cover your entire course duration. private shared flats are easily available and can be rented directly from the owner. But this option is expensive but sharing can reduce the cost. 
Hostels are another option and can be found in lower cost. HDB (Housing Development Board) flats are available rate which range from 250SD$/ month for a room and 1,000SD$/ month for the whole flat.
Singapore is no doubt small and because of its size it is often called "The Little Red Dot". However, despite being one of the smallest countries, it is currently a major economic stage. Singapore is a cosmopolitan multicultural city-island made up of four major ethnic groups – Chinese, Malay, Indians and other Eurasian minorities.
REQUIREMENTS TO APPLY STUDENT VISA
If you are planning to apply for a student visa for Singapore, you may hear a "Pass". Well in Singapore, every visa is referred to as a "Pass" i.e. "visa". So "Student Pass" is no different from "Student Pass". After receiving the offer letter from your desired institutes, you need to apply for student pass to enter Singapore. If you are an Indian student, the institute of Singapore will file the Singapore student pass for you on behalf of the student to Singapore immigration and checkpoint authority (ICA). It normally takes 2-3 weeks to get the Singapore student pass and application fee varies from institute to institute. The basic requirement to study in Singapore are as follows :
International students application form
Passport 
One passport size photo (less than 6 months old)
Visa application fee
Bank statement (Original for the last 28 days from all sponsors)
All academic documents
Affidavit of support to be given by the sponsor on Rs. 20 stamp paper (non-judicial)
Work experience certificate (if any)
Fixed deposit receipt (if necessary)
Bank loan sanction letter (if necessary)
POPULAR UNIVERSITIES WITH OUR STUDENTS​
National University of Singapore
Nanyang Technological University
Singapore Institute of Management
Singapore Management University
SP Jain School of Global Management
INSEAD singapore
Nanyang Institute of Management
James Cook University
PSB Academy
Management Development Institute of Singapore
Singapore Institute of Technology
Nanyang Business School
Amity Global Institute
Nanyang Polytechnic
SIM University
Singapore University of Technology and Design
ESSEC Business School
Singapore Polytechnic
Lasalle College of Arts
Kaplan Higher Education Academy